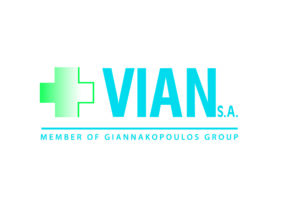 Year of establishment: 1995
President BoD: DIMITRIS P. GIANNAKOPOULOS
CEO: DIMITRIS P. GIANNAKOPOULOS
VIAN SA is a subsidiary of the Giannakopoulos Group, with a dynamic development course since the year of its establishment, in 1995. VIAN SA is the No1 * company in the promotion and distribution of OTC products in the Greek market. VIAN SA distributes and promotes Over-The-Counter drugs, generics, parapharmaceuticals and medical devices in Greek pharmacies, holding a leading position among Greek and multinational OTC companies. VIAN SA has created and maintains a remarkable nationwide network of customers, which includes 5,200 pharmacies and all Pharma warehouses and Cooperatives.
At the same time, the company manages all brands with 360 ° marketing approach actions, which are integrated actions addressed to HCPs (physicians & pharmacists) and consumers. The company implements every year significant investments in infrastructure and Human Resources programs.
VIAN SA today, provides high quality services to HCPs, consumers, and partner companies, covering every modern requirement in order to consolidate its leadership position through the continuous expansion of its product portfolio and collaborations.
* IQVIA, MAT 2020
Address:
2, Ag. Nektariou, 153 44 Gerakas, Pallini Attiki
Telephone:
+30 (210) 9883372
Fax:
+30 (210) 9889591
Website:
http://www.vian.com.gr
Email:
[email protected]