The trip "προΣfΕΕρουμε" (we offer) all over Greece goes on…
Press Release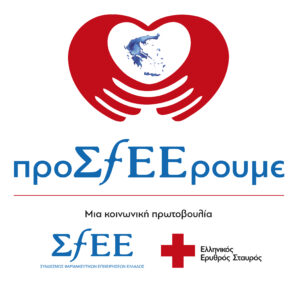 The trip "προΣfΕΕρουμε" (we offer) all over Greece goes on…
Athens, March 18,2021 – In the framework of the social responsibility initiative "προΣfΕΕρουμε" (we offer), the Hellenic Association of Pharmaceutical Companies (SFEE) covered the cost of pharmaceutical material for the support of patients suffering of chronic diseases. The medicines were delivered to beneficiaries of the Refugees/Immigrants Hospitality Structures at Serres' Kleidi, Malakassa and Korinthos.
The specific initiative is integrated in a broader framework of actions, undertaken jointly by the Hellenic Association of Pharmaceutical Companies (SFEE) and the Hellenic Red Cross, with a view to covering the needs in pharmaceuticals, sanitary equipment, and essentials for children and other vulnerable social groups, hosted in Structures and Social Welfare Centers.
The Hellenic Red Cross is active in the Hospitality Structures and Hotspots for Refugees and Immigrants since the beginning of March 2020, assisting the State efforts. In the context of offering health services to the persons living in these Structures, Hellenic Red Cross offers medical, hospital as well as medicinal care to the beneficiaries, most of whom have no Temporary Insurance and Health Care Number for Foreigners (PAAPA) and hence are unable to have our physicians prescribing them medication or any other kind of treatment.
The "προΣfΕΕρουμε" (we offer) initiative is deployed since the end of 2016 and has to date contributed with pharmaceutical material, consumables, necessities, 1st Aid pharmacies, school supplies, stationery and crafts material, in 14 areas over the sovereignty. Finally, 1st Aid and Volunteerism training seminars were also held.
The Hellenic Red Cross President, Dr. Antonios Avgerinos, stated: "The Hellenic Red Cross, in the framework of the voluntary humanitarian dynamics it has developed, moves ahead hand-in-hand with SFEE in subjects aiming at enhancing social cohesion and solidarity as well as activating civic society, with a view to combatting phenomena of marginalization and isolation of vulnerable social groups and enhancing volunteerism in our country".
The SFEE President, Mr. Olympios Papadimitriou, stated: "Today, more than ever, the support of vulnerable social groups hosted in Hotspots and Social Welfare Centers and facing serious health problems, is ore imperative than ever. Through the "προΣfΕΕρουμε" (we offer) initiative, SFEE and its member companies, in cooperation with the Hellenic Red Cross support these people in need, with pharmaceuticals and sanitary equipment. Our goal is to help as many fellow human beings as possible. This journey of ours, all over Greece, goes on…"
For more information on the initiative "προΣfΕΕρουμε" (we offer), please visit the link at the SFEE website: https://www.sfee.gr/category/ipefthinotita/koinoniki-protovoulia-prosfeeroume/